When it comes to bike locks, failure to find the perfect one could cost you dearly.
And by that, I do mean losing your beloved bike.
Firstly, there is nothing such as an unbreakable lock. Each and every lock can be broken.
However, locks do come with varying degrees of durability that depend on a variety of factors.
Another thing that is worth keeping in mind is that the strength always comes at the compromise of being impractical. For instance, the stronger your lock is the heavier it tends to be, this means that the lock becomes a bother to carry around.
Also, it becomes expensive. Therefore, what you need is a best of both worlds, an amalgamation of durability and strength.
The sad fact remains that Bike theft remains of the most common crimes in the city and if your bike is stolen, there are thin chances of you ever seeing it again.
However, for a problem so serious, I find that people tend to use cables and cheap U locks, that is same as not putting anything at all. The shocking ignorance surrounding this could be mostly dispelled to by reading on.
So, dear reader, read on to find out best bicycle lock and how to protect your bike.
Best Bike Lock Reviews 2020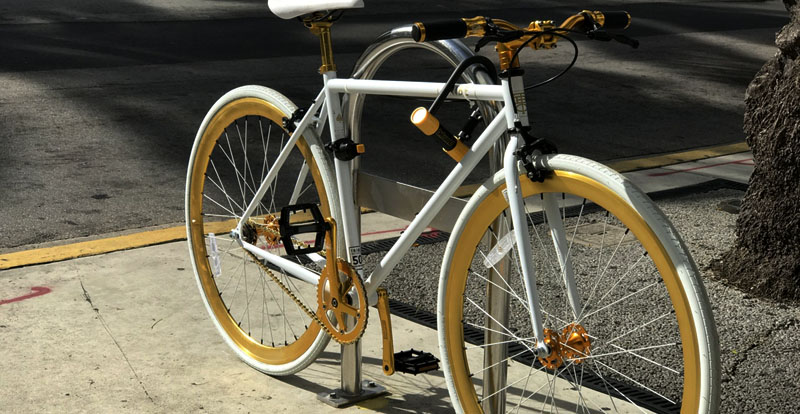 Some Suggested Best Bike Locks
Here's a list of some of the better locks you can buy in the market. All of these locks are highly rated, reliable and durable. There are the best sellers in their own league and though you may buy locks other than these. I earnestly recommend you to go through them.
1. Kryptonite New York Fahgettaboudit U-Lock Review
Fahgettaboudit is really a midland Philadelphia accent rendition of a popularly known phrase, 'Forget about it' and it's for sure that this lock will make all your worries go away.
The idea is once you secure your personal bicycles and other vehicles with this U-lock, you will literally forget about it and have supreme peace of mind. Bolt-cutters and hacksaws would be proven hopeless in front of this lock, because this is one of the most unbreakable bicycle locks that you might have come across, and the specially crafted steel alloy makes sure that thieves keep away. Wow, that is something, isn't it?
This bicycle lock uses advanced double deadlock design, and disk cylinder technology, making it very hard for the thieves to pick or to cut the lock and have access to the bicycle. It's also oversized and comes with three keys, including one with high-intensity light for using it in the dark so that there is no problem regarding locking and unlocking, even when no source of light is around.
2. Abus Locks U 64 Mini Futura Bike Lock
There are many products on the market which boast of safety and the market is growing rapidly, too, so there are more and more locks making new promises. But these locks, in most cases, fail to meet one primary criterion- which is that it has to be lightweight.
The effective ones cost a little more, and the thinner locks don't deliver the kind of security and even if they come cheap, they don't possess that kind of resistance against theft devices. It's a mini lock, and ABUS makes sure that mini becomes a keyword – despite being a super safe lock on this list, it's astonishingly lightweight and doesn't take a lot of effort to lock or carry.
Not just that, but ABUS offers you a choice between a wider shackle or, if lightweight is your key, a slimmer counterpart as well. The U shaped lock further claims a specially reinforced material that build up its shackle.
The locking system is easy, and the drill protected design particular to this lock keeps it safe from all kinds of activities like tampering, destruction or theft.
The size is effectively small and foldable to make it conveniently fit at one side of your pocket.
3. Kryptonite 999515 Black 12mm x 39″ (1210) New York Chain and Evolution Series-4 Orange 14mm Disc Lock
Though it has a long and intimidating name and is quite frankly not recommended by many due to it being a chain lock, before you get all judgemental, consider the facts. This lock is flexible, durable and the chain, contrary to the popular belief, cannot be cut open easily.
Even a hacksaw shall not be able to cut the hardened steel chain that this lock so fashionably sports. The chain is heavy and so is the lock.
The lock that the Kryptonite 999515 has is one of the heaviest bike locks around and true to its weight it does provide an unmatched amount of durability.
There are a few cons though, the weight of the chain and the lock make it a tad difficult for the lock to be carried around. However, if you are looking at hardcore locks aimed at security then look no further. Your choice has arrived.
4. New York Fahgettaboudit Mini
The New York Mini maybe small when it comes to size but let me assure you that it is as safe as it gets. Not to be fooled by its small and petite size, the New York Mini is a very durable and safe lock. Unlike similar sized locks that tend to be flimsy, the Mini is very heavy.
Its small size however, makes it extremely easy to carry it about and with no accompanying frames, the weight isn't much of a bother. So, if you live in an area that ranks high in terms of security risk, I would definitely recommend this beauty.
5. Master Lock 8200D Street Cuffs Lock
The Master Lock 8200D are hand cuffs, but for your bikes. These designer, trendy locks however, are equipped with the best security at their price. They are made from hardened steel that makes it extremely difficult to cut through them. They are extremely light and can be folded and carried around easily.
The small size of the Master Lock 8200D makes it very difficult to cut the lock without damaging the frame. This ensures that your bike is safe and you are tension free.
Buyer' Guide
Well, here is a guideline which can help you to make your decision perfect to choose a perfect bike lock. So let's go, we read it before purchase anyone.
What to Look For in a Strong Lock?
While looking for a string lock, there are some things that you should consider features that make a lock a tad bit unbreakable. Here are a few:
The first thing that you need to decide when you buy a lock is the type of lock. The two most secure types of lock are the U locks and chains. When both are of good quality, they form a good combo. However, let me strictly warn you not to use a cable lock. Cable locks offer the worst type of security and can be easily broken using bolt cutters.
The second thing that you would consider is the materials that comprise these locks. The more expensive materials used are usually hardened steel. The hardened steel, though expensive, comes with its share of advantages because such steel cannot be cut by hacksaw and bolt cutters. However, cheaper bicycle locks tend to use alloys that offer lesser protection and can be easily cut.
Features in a Strong Lock
Traditionally there have always been two types of bicycle locks – cable and shackle. The shackle locks were once considered to be the more reliable of the two. However, with modern technology, even shackles have turned out to be reliable as cables. So it all comes down to these few factors to decide what you want.
Weight
The heavier of your bike locks could weigh up to a whopping 3kg, which is quite a significant amount of weight carrying it about on your bicycle. Though the weight of the lock may reassure you of its safety, you may not want to carry it about every day. This remains a very personal choice like your choice of the lock.
Certified Testing
There are many independent agencies such as Sold Secure that allow certification of security. This certification allows a certain amount of credibility to the locks and time and again. The agencies classify locks into three categories – Gold, Silver, and Bronze.
Weatherproof
If you are living in a damp or wet climate, there is always the chance that your bicycle may be subject to rain and other forms of precipitation. Granted that it is too much to expect waterproof sealing around the keyhole areas, precautions of that order are always thumbs up.
Ease of Using
How easily and efficiently the lock can be used is always significant when it comes to actually buying the lock. An easy reminder is that locks that can be used with one hand are always preferred. The harder it is to use your lock, the more you'll not want to lock it and trust me, that's not a good habit to cultivate.
Different Types of Lock and Their Pros and Cons
U lock
A U lock is so named because of its padlock shaped structure. The U lock is popular because it maintains a subtle balance between practical use and durability.
General users have found them easier to use than the conventional chain locks, while still being highly protective. The U lock tends to be less flexible than the chain lock and therefore, locking maybe a problem. The size also could be a possible hindrance to carrying it around.
Chain Lock
Chain locks follow an easy concept, there's a chain and there's a lock. You wrap the chain around a secure object and lock your bike along with it. Chains are comparatively easy to tie around things as compared to the more uptight U lock.
Though it has its obvious advantages, the chain is a heavy thing to carry about. Sometimes, even heavier than the U lock. My advice would be to use a chain lock only when your bike is to be locked away to a place for a long place of time.
The chain lock is a bit more expensive than the U lock and you if you are seriously considering buying a chain lock, then do take into consideration the problem of portability.
Folding Locks
The folding lock is a comparatively newer entrant in this genre. It is the miracle of riveting that allows the creation of such a lock. The folding lock consists of a series of metal plates held together by rivets. These rivets can then be moved about and used to create the sort of structure one could use to tie a bike. There are, however, quite a few issues with the lock.
Granted that the lock is way lighter than most of its traditional counterparts and it offers a way better security at least on paper. However, the lock is complex to use and there seems to be quite an issue with using them. Also, I personally doubt the quality of the locks available in the market currently under this category.
However, this category being almost nascent, is expected to see growth in coming years and so shall have better locks.
Cable Locks
While I don't really wish to review or recommend them, let me mention them for the information's sake. The cable locks are usually made of steel wires put in a tube. They can be easily cut in a matter of seconds and offers almost zero protection. Whatever you do, don't use these types of locks.
Yes, they are cheap. But they come at a heavy cost later.
Conclusion
A bicycle is an extremely important part of your daily life, not to mention a very lovable one. People share a special bond with their bikes, some would even consider it akin to what we share with our pets and it is truly a heartbreaking if your bicycle happens to get stolen.
One look at people who have come to report stolen bicycles will make you change your mind if you didn't intend on buying a lock.
Now, this article is by no means exhaustive, however, what it does give you is a basic idea if you are uninitiated to bike locks.
Dear reader, you have probably spent a whole lot of time and money to buy that dream bicycle of yours. So yes, now that you have chosen your best travel companion, it time you chose the best lock to protect it.
Because safety matters and your bicycle deserves the best.