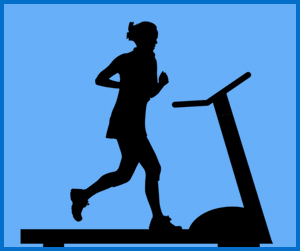 Treadmills have been an indispensable part of commercial gyms with the many physical benefits.
And modern comforts that they bring.
Just imagine the freedom of getting a light or intense full-body workout in an instant–
without having to worry about the heat or the rain outside.
Because of this, many people aim to purchase this exercise machine for home use.
However, with today's heavily-saturated market, choosing the best model can be pretty confusing. If you're one of the fitness buffs who are looking for a quality treadmill without spending your entire savings, then you've came to the right place.
When it comes to treadmills, the competition really picks up in the mid 3-figures price mark. Add to that the fact that there are many cheap knockoffs in this range, which only exist to make a quick buck off unsuspecting customers.
Best Treadmill Reviews 2020
Best Treadmill Reviews
However, it is still possible to get a reliable, quality machine without settling for junk or breaking the bank. To help you with the selection, here's a round-up of the best rated treadmills:
1. Confidence Power Plus
Designed with the home user in mind, this motorized electric treadmill combines agile productivity with compact storage. It features a low profile that's not just ideal for traditional walks and runs at home, but is also compatible with standing desks for office use.
The handle tops are removable to accommodate the dimensions of traditional standing desks, thus encouraging users to exercise as they work on the computer. The machine weighs in at only 53 pounds and can be moved effortlessly from room to room thanks to a set of wheeled feet at the bottom.
Although it's light, the treadmill's large and strong enough for a user of up to 250 pounds. And for the specs, the Confidence Power Plus comes with a decent 600-watt motor, a belt length of 34.5-inches, and a large LED screen for viewing stats and adjusting settings on the fly.
2. Weslo Cadence G 5.9
The Weslo Cadence G 5.9 is one of the newest in the series and is the step-up model to the R 5.2. This treadmill packs a solid punch with the functionality it brings. It has a quiet-running 2.25 HP motor that delivers a maximum speed of 10 miles per hour (with increments of .5 mph), while the two-position incline can be adjusted manually for added variety.
The running deck is 16 inches wide by 50 inches long to suit users of average height and below, and is padded with the exclusive Comfort Cell Cushioning system for workout comfort. It boasts a total of 6 preset workouts, which are designed by certified pro trainers to ensure a robust training session.
Like the above mentioned model, this treadmill supports 250 pounds and has an easy fold-away design for simple storage.
3. ProForm 305 CST
Another budget-friendly workhorse is the smooth-operating 305 CST Treadmill from Proform Fitness. Built with a 2.5 Continuous-Horsepower Mach Z motor, this machine can reach speeds of up to 10 mph – perfect for light and moderate intensity workouts.
The incline level is adjustable to a maximum of 10 percent if you want to take your cardio exercise to the next level. Both of these settings can be toggled and viewed via the central control panel, together with the 8 preset workouts, distance, speed, and calories burned.
Plus, you may monitor your heart rate as you move, made possible by the EKG Grip Pulse built into the handlebars. The company was also kind enough to integrate an Intermix Acoustics 2.0 Sound System into the console, so you can run to the beat of your favorite hits.
Top it all off with Proform's industry-leading 5-year warranty on motor/frame and 90-days on parts/labor, and you have a versatile machine that's centered on long-term performance.
4. ProForm PFTL60916 505 CST
This machine is specifically tailored to give you optimum comfort, safety, and entertainment as you exercise. Under the bonnet is a 2.25 CHP Mach Z motor with self-cooling drive that lets you use the treadmill on prolonged sessions, and extends the motor's service life at the same time.
The 55-inch by 20-inch tread-belt is designed to run quietly and smoothly, and topped with the ProShox Lite 3 Cushioning to protect your joints from discomfort or injury. You may choose from 15 pre-loaded workouts, or log into the web to run and train for races online using the iFit Live app powered by Google Maps.
There's also a 6-inch backlit display for tracking your progress, while the compatible music port allows music playback from your iPods and MP3s.
5. Horizon Fitness T101 treadmill
The award-winning T101 from Horizon Fitness is a great choice for new fitness enthusiasts and athletes-in-training alike. It features an impressive selection of 30 preset programs that will let you enjoy different workouts for every day of the month.
The 2.25 CHP motor ensures a smooth and quiet ride even when running on its 10-mph cap, and the 55-inch belt is long enough to accommodate taller users. The weight cap on the other hand is also generous at 300 pounds, while the Flex Deck Cushioning system prevents achy joints and sore backs from running on bare concrete and asphalt.
Additionally, there are two hydraulic shocks in the unit that allows you to fold up the machine vertically and save up on storage space.
6. LifeSpan TR 1200i Folding Treadmill
Well-built and affordable, the LifeSpan TR1200i is brimming with features for an affordable price. It boasts high-performance specifications like the 15-level adjustable incline and variable speeds of up to 11 mph, but also pays careful attention to its new console design.
There are 17 preset programs, two heart rate control programs, and two custom programs for variety. It's also compatible with the LifeSpan Fitness Club, which means that members can download custom workouts online. You may even store essential workout data to your USB and keep a close watch on your specific fitness goals.
Audio entertainment is not to be missed, with the iPod port, headphone jack, and hi-fi speakers built into the console. Plus, the TR1200i not only gives runners more room to stretch with its 20-inch by 56-inch tread-belt, but also helps save space as the deck can be folded up easily after use.
Wrap up
While outdoor fitness equipment like trampolines are obviously better for a whole-body workout, it's not always possible to go outside for your workout sessions. A quality treadmill saves the day and helps with your cardio if you got to stay inside.
Many people have been accustomed to the thought that one must be prepared to spend more in order to obtain a high-quality product. However, the best treadmills are out to prove that it's not really necessary to reach deep into your pocket just to find a good running machine.
From straightforward simplicity to space-saving utility, these models will help you stay in shape without burning a hole in your wallet.
Getting a good exercise machine doesn't automatically mean paying a higher price. As opposed to what most people are led to believe, the best treadmills are actually loaded with options which cater to the demands of fitness enthusiasts on a budget.
While the features on these affordable models are not as great as its high-end counterparts, these dependable exercise machines are more than capable of giving a challenging workout in the privacy and comfort of your home.